Fr Dilan Perera and the "Dream Team"
"Houses For The Poor" has been an initiative of Fr Dilan Perera OMI of Sri Lanka since 2006.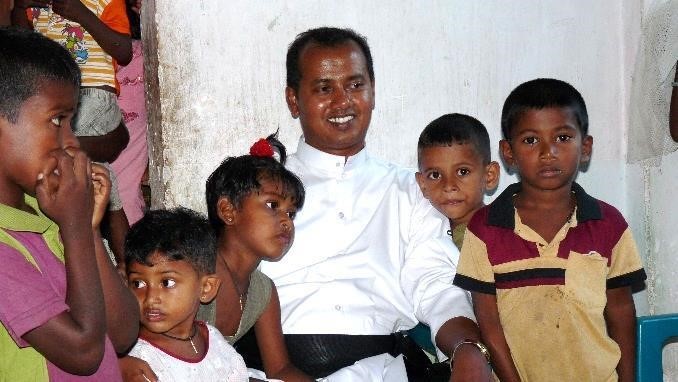 The initiative started when a group of friends in Brisbane (The Dream Team) was made aware of Fr Dilan and the much needed help he required to improve the living standards of the people in the district of Monaragala, Sri Lanka. Fr Dilan was the parish priest of Buttala, a town in that district which is known for its poverty.
In the period between 2006 and mid 2019,
157 homes for the poor have been built by Fr Dilan with the support of the "Dream Team" and many generous donors throughout Australia and overseas. The funds for this huge achievement were provided by a mix of individual donors who often funded construction of complete houses, families donating a house in memory of a loved one, many charity functions held to support the cause, and through many individual small personal donations.
All of the donations made between 2006 and 2019 were generously made to a cause which did not have the benefits to donors of a formal charity registration.
In addition to constructing houses for the poor, Fr Dilan's supporters have funded other community projects in Sri Lanka which benefit the poor. Achievements have included: building a new pre-school and community hall in Buttala, a project to build toilets for the poor in Buttala, helping the poor with food rations, helping those with grave illnesses with medical expenses, and assisting the poor with funeral expenses to bury their loved ones.
About Father Dilan
Fr Dilan Perera is First Councillor in the Colombo province of the Catholic religious congregation known as the Oblates of Mary Immaculate (Colombo province consists of 114 priests).  He is also currently the parish priest at Our Lady of Fatima Church in Maradana, Colombo.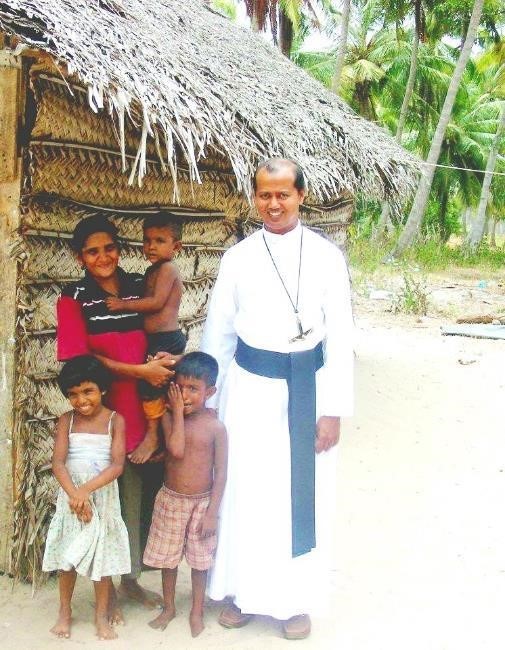 "Fr Dilan has dedicated his life to uplifting the poor whose life is an eternal struggle and to give them an opportunity to live with some dignity & hope.  One only has to witness the wide smiles, or the tears that flow through the sheer joy of receiving a new home, to realise the positive impact [of Fr Dilan's work] not only on the parents, but on the children and their future.  Most of these families have in fact kicked on with their new found dignity and filled the void with an optimism & penchant for life that was sadly missing!
Fr Dilan Perera OMI, is a Man of God, who as it turns out, has and continues to devote his life offering his services to our brothers and sisters, tending to both their Physical & Spiritual needs!!"
Jeremy, one of the founding members of the "Dream Team"
"We are really blessed to be born into a world that has given us a good life.  Then there are the less fortunate, through no fault of their own, have been born into a world of poverty, desperately looking for mercy and help.  Take a look at the little boy crying in this photo. God makes it our duty to share our blessings with those who are poor for they are not to blame.  God has not forgotten them, He has you to help them. It is up to us."
About the Inez Andrée Benevolent Trust
The Inez Andrée Benevolent Trust (the Trust) is an Australian registered charity with the mission of undertaking charitable works in the community.  Following a change to its operating model in early 2019, it was looking for suitable projects to support, when it became aware of Jeremy's fundraising activities for Fr Dilan's Houses for the Poor project.
Impressed by the "bang for buck" it could achieve by supporting Fr Dilan, the Trust donated its first house for a poor family in Sri Lanka in April 2019, and expects to continue to sponsor more over time.
Realising how the involvement of a registered charity could potentially boost the already generous contributions being made to Fr Dilan's project, we set up this Houses for the Poor appeal website in June 2019.  When you make a donation to fund Fr Dilan's Houses for the Poor through this Australian website, you are making a donation to the Houses for the Poor appeal conducted by the Australian charity, The Inez Andrée Benevolent Trust.  100% of donations made to our bank account go to the construction of houses for the poor (donations made by debit or credit card incur a merchant service fee).  Donations made to the Trust are tax deductible for Australian taxpayers.
You can find out more about the Trust by visiting its website: inezandree.org.au.