Lahiru Madusanka and Family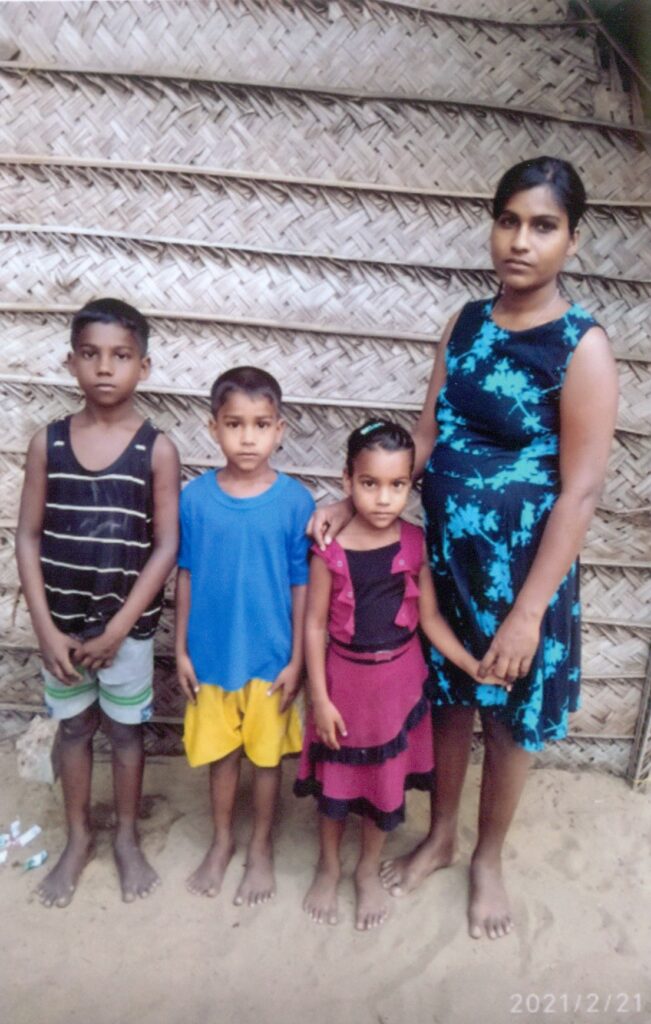 Lahiru Madusanka is a poor fisherman with a seasonal and meagre income. His daily struggle to provide for his family is aggravated by the disastrous effects of the Covid Pandemic.
The picture shows Lahiru's wife Sadarshini Maduwanthi (29 years old) with their children Shenol Shemika (10 Yrs), Minoth Nethusha (8Yrs) and Sheni Amasha (7 Yrs). Sadarshini is also expecting their fourth child.
The "house" that they are standing in front of is a Cadjan hut built close to the sea. The hut is barely weatherproof, and heavy rains during the wet season and the proximity to the ocean often result in the hut being inundated with water.
Father Dilan has asked us to help build a better house for this Family and we have been allocating donations to this cause since April.
P I Susantha and Family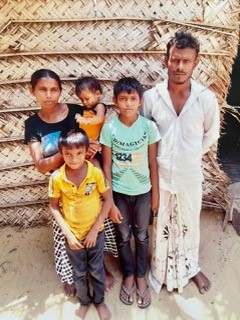 P I Susantha is also a poor fisherman struggling to support his family before the additional burdens caused by the pandemic and the pollution caused by the recent marine disaster north of Colombo.
Pictured with him in front of their current dwelling is his wife Champika Samanthi (28 years) and their children Lakshan (11), Nethusara(08), and their 1 year old toddler Nethsarani.
The families featured above are currently next in line for funding from your kind donations. Whilst we are delighted to receive sponsorship for a particular family from a single donor, we appreciate that we cannot donate as much as we would like at a given point in time.  Donations of any size are more than welcome, and we are currently allocating pooled donations to fund the construction of a house for the family featured above. When and if the amount you donate takes us 'over the top' for the featured family appeal, we'll automatically allocate the balance to the next family in line waiting for assistance.
If you would like to make a more substantial donation (for example, the entire cost of a house), please contact us to confirm the donation status of the families featured above or inquire about the next available family.
Whatever you decide, the poor families appearing on these pages will be extremely grateful for any help you can spare.
The cost of building a house at current exchange rates is approx $5000.00 *
If you are able to travel, we encourage you to attend the opening ceremony for your family's house.  We can advise how long construction is likely to take, and Fr Dilan will personally meet with you to introduce you to the family you have helped, and show you the house you have built.
See our "A word from past donors / sponsors" page for comments from people who have donated, and been able to make the trip to open their family's new house.
* as of April 2021 – exchange and constructions rates are liable to change, and this estimate may be updated from time to time.